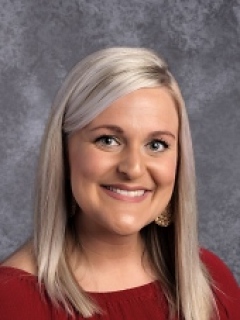 Hello, my name is Paige Davis. I am so excited to be teaching 3rd grade Math this school year. I began my teaching journey at the University of South Carolina, where I earned my bachelor's degree in Early Childhood Education. I taught 1st grade in South Carolina for two years before moving to Alabama. I have been in 3rd grade ever since and absolutely love it! In 2017 I earned my masters in Instructional Leadership from AUM. I currently live in Deatsville ("Slapout") with my husband John, my wonderful son Chase, and my furry daughter Molly. My family and I are huge South Carolina fans. We love going to games and cheering on our Gamecocks! Besides sports, I love going to the beach, going to the park with Chase, and just being with family. I also spend extra time after school as a Garden Club sponsor at Airport Road. I love being outside in the sunshine and I have so much fun with the students.
I am beyond blessed to teach at Airport Road Intermediate. It is my goal to help guide your child to find their strengths and embrace their weaknesses. While in my class, I want them to achieve their ultimate success, become better people, and above all have fun learning! Please do not hesitate to email me or call the school office if you ever need to get in touch. I am looking forward to a great year!
1 1 ½ inch 3-hole heavy duty binder
w/ clear pocket at front
6 200 Count Filler paper wide ruled
4 24 Count Crayola crayons
1 5" safety Fiskar scissors
10 Elmer's school glue sticks
(NO LIQUID GLUE)
6 24-pack #2 wooden pencils
1 3-hole binder pencil bag
25 heavy duty sheet protectors
2 yellow highlighters
2 packs cap erasers
2 packs black Expo markers
4 composition notebooks
2 packs of 100 count small index cards
1 pack construction paper
1 pair over the head wired headphones (NO EAR BUDS, NO BLUE TOOTH)
Folders (plastic)
2 red pockets with brads/prongs
2 blue pockets with brads/prongs
2 yellow pockets with brads/prongs
2 green pockets with brads/prongs
2 purple pockets with brads/prongs
Teacher Wish List
If you would like to donate any of the following items for use in our classroom, we would greatly appreciate it!
reams of white copy paper
reams of colored copy paper
Dry Erase marker board cleaner
boxes of Kleenex tissues
containers of Clorox wipes
bottles of Germ-X
Ziplock bags (all sizes)
Air fresheners
Band-aids
rolls of paper towels
card stock (white and colored)
liquid soap