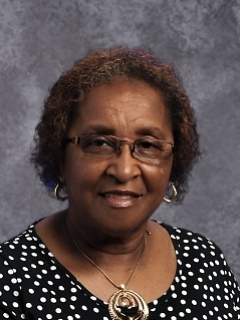 Biography
---
Hometown--Valley, AL
Husband
3 children
7 grandchildren-Joseph, Broderick Jr., Alexus, Sterling, Zoe', JaMychel, & Jaden
Church-Lake Elam Baptist Church, Millbrook, Al.
Hobbies-Bowling, football
My favorite professional team - Dallas Cowboys, Atlanta Falcons, Tennessee Titans, Alabama State University Hornets
My favorite college team--Alabama State University Hornets
Favorite food/drink-T-Bone/Sprite
Favorite restaurant-O'Charley's, Cracker Barrel, Ryans
Favorite things- live green plants
Education
---
Valley High School, Valley, Al.
Early Childhood Education
Alabama State University, Montgomery, Al.
Experience
---
I have 18 years experience in teaching.
I have taught the following grades:
Kindergarten
2nd grade
3rd grade (presently)
My favorite subject is reading.
My favorite authors are Patricia Polacco & John Erickson (Hank the Cowdog Series)